Finally! Now You Can Make Whole Bean Coffee On-the-Go!
Introducing the Award-Winning Cafflano Klassic Portable Coffee Maker
3-in-1 Portable Coffee Maker
Conical Burr Grinder
Stainless filter
Insulated tumbler
Fast and easy to use
Small and lightweight
Saves you money!
Saves you time!
You're fed up of always having to choose between good but expensive coffee shop coffee and the gnarly instant stuff your office provides. You even tried that train station shop to-go coffee the other day and soon realised you should've just thrown those two pounds on the tracks.
Why compromise on good coffee just because you travel a lot? Or because you love to be outside? Or because you don't want to line up at Costa when your train is delayed?
The Cafflano Klassic Portable Coffee Maker not only brews a delicious coffee in a small, compact tumbler, it also allows you to grind whole beans! In just a couple of minutes you go from having no coffee to a fresher than fresh bean to cup coffee!
[su_service title="My Favourite Coffee Maker" icon="icon: check" icon_color="#348842″ size="64″]And it's less than £65!
[/su_service]
According to ThinkMoney financial consultants, we coffee lovers here in Britain are purchasing around 46 million cups of coffee every day in coffee shops. When did you last buy a to-go coffee? Last week? Yesterday? Today?
When the average takeaway coffee in the UK costs around £2.50, many of us are haemorrhaging our precious cash just for the sake of convenience. £2.50 doesn't sound like much right now, but what if you buy a coffee every day on the way to work? That's £12.50 a week. That's £650 a year!
Want to keep track of your coffee spending? Try a free tracker app like Mint (mint.com) or Wally (Wally.me) and you can see just how much the convenience of Starbucks, Costa and Nero are really costing you.
Right, Back to it!
The Cafflano Klassic Portable Coffee Maker straight up just looks like a tall tumbler. It's lightweight, easy to carry around and even looks really nice. But what's inside? Why is this so incredible?
Check out this super quick video to see the Cafflano in action: VIDEO 
Try using this phenomenal portable coffee maker for just one week and you'll be shocked at what you discover.
You won't:
…Need to queue up at the coffee shop on the corner.
…Need to hand over precious cash every day.
…Need to waste anymore time.
You will:
…Drink bean-to-cup coffee FRESH whenever you want.
…Save huge amounts of money.
…Save loads of your valuable time.
What's Included in the Cafflano Klassic?
The Cafflano Klassic is an all-inclusive whole bean to coffee system all in one single, portable package. It includes everything you need to make a kick-ass coffee whether you're on the train, in the office or out in the park.
The Cafflano breaks down into four separate components:
Pouring Kettle
Ceramic Conical Burr Grinder with fold-up handle
Etched Stainless Eco-Friendly Filter
Insulated Drinking Tumbler
You don't even have to carry a bag of whole beans with you, as you can store the beans inside the grinder or the tumbler. Worried about grinding too much coffee? The high quality ceramic burr grinder has level markers so you'll only ever grind the perfect amount. Too much water? The pouring kettle has water level markers, so the water you pour is the perfect amount for the coffee you're making.
Does it take long?
 You're a busy person in a busy world and you shouldn't have to waste time getting a coffee, you should just spend that time enjoying it! That's why you don't want to be counting the people in front of you in Starbucks or trying to hunt down a clean mug in the office break-out room.
Grind your beans in 35 seconds
The Cafflano Wonder Machine (yeah that's what I like to call it) is super fast to use. In fact, grinding one portion of beans takes around 35 seconds. 35 seconds! It takes longer than that to walk around the screaming children, pushchairs and laptop charging cables to even get to the counter in your local coffee shop!
Once you've ground your beans (and earned yourself a cookie for that little bout of mild exercise) you simply remove the grinding section, leaving the grounds in the filter, then pour hot water in!
There are loads of portable coffee makers on the market right now but how many can grind beans? How many are this simple? How many are this perfectly engineered to Just. Work. Flawlessly.
Added Perfection
The order in which the components go together is also the order in which they're used.
The vertical stack design makes it tumbler shaped and super easy to hold.
The grinder is ceramic conical burr, i.e. the same type used in professional bean to cup coffee machines.
The grinder is adjustable for different grind settings allowing you to choose the strength and intensity you want.
Stainless filter is highly durable, easy to wash and is reused every time; environmentally friendly!
Don't just trust us!
We at Blackheart's Coffee love the Cafflano because we travel A LOT but don't want to spend our time kicking our heels in coffee house queues or paying through the nose for a single coffee each time. But we're not the only ones who think it's the cat's pyjamas.
The Cafflano Klassic is an award-winning piece of usable art.
It's won:
'Best Domestic Coffee Equipment' at SCAE World of Coffee
'SMART Label' at HOST
'Most Innovative Product' at the New York Coffee Festival & Autumn Fair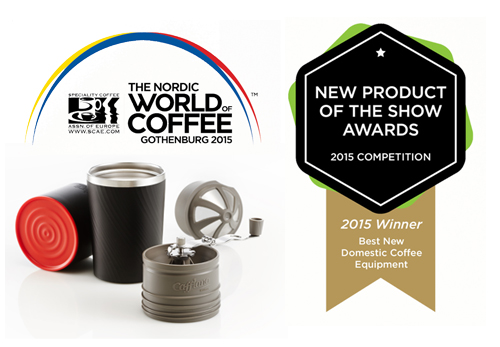 LISTEN. How is this going to improve your life?
The best coffee on the go. As a coffee connoisseur, you probably know already that the best tasting coffee comes from freshly ground beans. Not beans ground last week and packaged. Not beans ground five hours ago and put in the fridge. Beans ground right here, right now. This portable coffee maker allows you to grind beans and brew within minutes, all within something the size of a tumbler!
Huge financial savings. We already talked about how much coffee shop coffee costs but did you know that most coffee shops grind their beans in the morning? This is even better coffee! And because the grinder has bean measurements, you only ever grind the amount you need. No wastage. No throwing money at Costa and Starbucks. Does the Cafflano cost an arm and a leg? No! It's less than £65!
More time for the things you love. It's not just that it takes time to queue up for your coffee in a shop, it's also the time taken getting to that shop. Waiting at traffic lights, wasting fifteen minutes of your lunch hour just jostling with a hundred other workers on their lunch hours. With the Cafflano, you can get your hot water from the office kettle or a thermos and immediately start making your whole bean fresh coffee. Why not get out of the office and enjoy the sunshine in the park? Eat your sandwiches and brew your coffee right there!
The coolest kid on the block. Cafflano was only made possible by one total engineering genius plus a Kickstarter campaign. This ultra-modern, beautifully designed and fantastically engineered product is the newest innovation in the coffee drinking world. Multi-awarding and unbelievably affordable, this eco-friendly coffee system is for those who like good design and modern ingenuity. What can we say? The Cafflano is just plain cool.
Buy the Cafflano Klassic
Choose from the black Cafflano or the red Cafflano and with free UK delivery you'll be enjoying your fresh whole bean coffee in no time at all and at no extra cost.
There aren't any pesky add-ons, no extra filters to buy and no disposable parts. All you need to get your hands on to make this complete is some coffee beans!
BUY BUY BUY BUY BUY!!!!!  😀